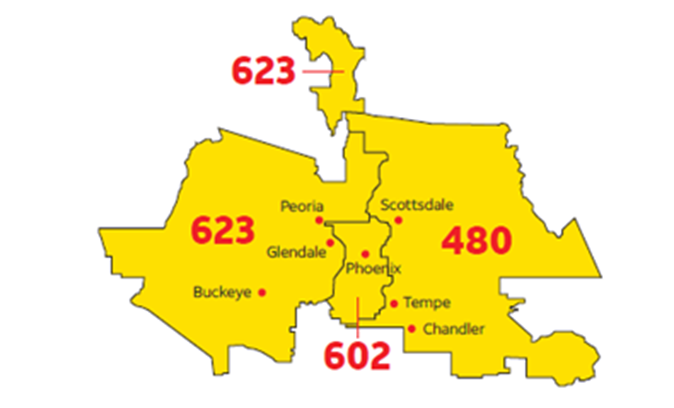 PHOENIX – On November 9, 2021, the Arizona Corporation Commission (ACC) issued Order No. 78311, approving a boundary elimination area code overlay to remove the boundary restrictions between the 480, 602 and 623 area codes, to allow each of these area codes to serve the entire Phoenix geographic area. This change is to ensure consumers and businesses in the Phoenix area will have continued access to telephone numbers from their wireline/wireless/Voice over Internet Protocol service providers of their choice.

The ACC today reminds customers in the 602 and 623 area code regions that due to the implementation of the boundary elimination area code overlay, a new 10-digit dialing procedure (area code + seven-digit telephone number) should be used beginning February 11, 2023, when making all calls. The implementation requires customers with telephone numbers in the 602 and 623 area codes to dial the area code + telephone number on every call, including calls within the same area codes. Callers from the 480 area code have already transitioned to 10-digit dialing due to the recent implementation of the '988' abbreviated dialing code to reach the National 988 Suicide and Crisis Lifeline.

The new dialing procedure will be effective and mandatory for anyone with a 602 or 623 area code on August 12, 2023. On September 12, 2023, any of the three area codes may be assigned to those who request a new telephone number or an additional telephone line.
What other changes need to be made?
Important safety and security equipment, such as medical alert devices, and alarm and security systems must be programmed to use 10-digit dialing. Many systems operate on 10-digit dialing by default, but some older equipment may still use seven-digits. Please contact your medical alert or security provider if you are not sure whether your equipment needs to be reprogrammed to accommodate the upcoming change to 10-digit local dialing. Any needed reprogramming of alarm and home security equipment must be done during the permissive dialing period from February 11, 2023, to August 11, 2023, to avoid interruption of services.

Some other examples of services that may need to be re-programmed are:
Life safety systems or medical monitoring devices
PBXs
Fax machines
Internet dial-up numbers
Fire or burglar alarm and security systems or gates
Speed dialers
Mobile or other wireless phone contact lists
Call forwarding settings
Voicemail services and other similar functions
Be sure to check your website, personal and business stationary, advertising materials, personal and business checks, contact information, your personal or pet ID tags, and other such items to ensure the area code is included.
What will remain the same?
Your telephone number, including current area code, will not change
The price of a call, coverage area, or other rates and services will not change due to the dialing change
What is a local call now will remain a local call regardless of the number of digits dialed
You will continue to dial 1+ the area code + telephone number for all long-distance calls
You will continue to dial a prefix (such as '9') when dialing from a multi-line telephone system (e.g., in a hotel, office building, etc.) as required
You can still dial just three digits to reach 711 (relay services) and 911 (emergency services)
If 211, 311, 411, 511, 611, or 811 are currently available in your community, dial these codes with just three digits

While a boundary elimination overlay is relatively new in Arizona, other states such as California and Texas have implemented such overlays. Further, more than 50 area code overlays have been implemented successfully in the U.S. in the last 10 years to meet the continual growing demand for more telephone numbers.

For more information, consumers and businesses should contact their local telephone service provider or visit https://www.azcc.gov/utilities/telephone/all-about-area-codes