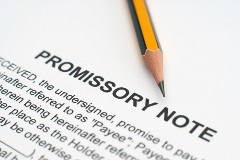 What Every Investor Needs to Know
A promissory note is a form of debt issued by a company to raise capital. In return for the loan of money, the company agrees to pay the investor interest over a specific time period. The interest may be paid during the time period of the note or at the end. There are two major types of promissory notes—secured and unsecured. Secured promissory notes have collateral behind them to secure the loan. Unsecured notes might have a personal guarantee but no valuable collateral, which carries a higher degree of risk of financial loss.

Promissory notes are only as sound as the companies or projects they're financing. Even promising companies can fail because of competition, bad management decisions or unfavorable market conditions. Promissory notes may be subject to regulation and individuals who are selling the notes may need to be registered or licensed.

Generally, promissory notes that are broadly marketed to the general public should be examined closely by the investor. Here are some warning signs:
Insured or guaranteed returns. With promissory notes, the higher rate of return, the higher risk of financial loss.
Above-market interest rate. A return on investment that is different from other similar investments should raise questions.
A start-up with "prime quality" notes. In the securities industry, prime quality means a company has an established history of operations and earnings.
Limited time period to act. Legitimate salespeople want you to take your time, ask questions and do some research.
Name-dropping of other investors. This is merely a persuasion tactic to convince you to invest.
"Out-of-the-blue" contact. Strangers emailing or calling you about investing in promissory notes is suspicious. Feel free to hang up or hit delete.
Lack of audited financials. Be cautious about investing in a company that cannot produce an audit by a certified public accountant.

Read more about promissory notes and the risks associated with them before you invest.
For Issuers
When you borrow money, you are selling a note to the person or company lending you the money. Both the Federal Securities Act of 1933 and the Arizona Securities Act define the term "security" to include "any note." Both acts include in their definition, however, the phrase "unless the context otherwise requires." In some contexts, the courts have determined that a note should not always be considered a security. An analysis of court interpretations is in order to understand when a note may not be a security, which is a time-consuming and complicated task.
Further, the Arizona Supreme Court has said that all notes are securities and must register unless the Arizona Securities Act provides an exemption.* Many transactions in which you borrow money (sell a note) are probably exempt from registration requirements because they are private placements, which include borrowing money from a close relative or borrowing money from a bank or savings institution.
The main point you need to know is that when selling a note, you may be creating a security. Thus, before you even attempt to "sell" a note within or from Arizona, you should consult with a licensed attorney knowledgeable in Arizona's securities law.