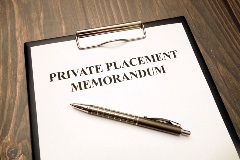 What Every Investor Needs to Know
Private placement offerings allow companies to raise money without having to comply with the registration requirements of a public offering.
Although private placement offerings may offer substantial returns, they may be high-risk investments that might not be easily resold to other investors on a secondary market. These type of private investments are only reserved for accredited investors (individuals or companies who have sufficient wealth to withstand a financial loss) and a limited number of sophisticated investors (individuals who have the experience and sufficient access to knowledge in order to make an informed decision).
Keep in mind that companies raising money through private placement offerings often have a limited operating history and typically have more modest revenue streams than larger, more established companies. Because private placement offerings are not reviewed by regulators, they should be carefully examined prior to investing.
For more information, read an investor alert on private placement offerings issued by the U.S. Securities & Exchange Commission (SEC).