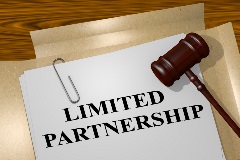 What Every Investor Should Know
A limited partnership agreement is a contract that creates a partnership between the general partner and those who finance the business, the limited partners. A limited partnership can consist of as few as two people or parties — a general partner, who may or may not invest in the partnership, but who manages or controls it, and one or more limited partners, who provide the capital to fund partnership.
Limited partners are passive investors — their participation is limited to the profits or losses of the venture. Limited partners give control of their invested funds to the partnership, with decisions made on behalf of the partnership by the general partner. Thus, limited partnerships interests are securities.
Not only are the limited partnership interests securities, but sometimes the business of the limited partnership is investing in securities. For example, hedge funds are sometimes limited partnerships. The partnership raises money by selling limited partnership interests and then uses the money raised to invest in securities. In Arizona, the general partner of a limited partnership that invests in securities may be an investment adviser and may need to licensed under the Investment Management Act.
Read more about Limited Partnership Interests before you invest.