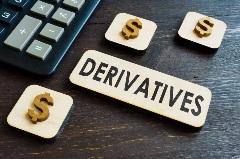 What Every Investor Needs to Know
Derivatives are financial products based on an agreement between parties where the value is "derived" from the price of an asset (stock, bond, or foreign currency), the value of a financial index, or the rate charged for an activity, such as borrowing money.
Basically, derivatives transfer the risk from those less willing or able to sustain possible financial losses to those more willing or able to manage the risks. However, if not used appropriately, derivatives can cause significant financial losses for investors. Some derivatives are sensitive to changes in the values of the underlying assets, which means that the value of a derivatives portfolio can deteriorate quickly and be difficult to predict. Generally, derivatives trades on organized exchanges are more liquid than those that are highly customized and traded in Over-the-Counter (OTC) markets.
Before you invest, investors need to know that derivatives are sophisticated financial products and that they should exercise great caution before investing. Obtain important background information about firms offering futures contracts from the National Futures Association (NFA) at www.nfa.org. As part of your due diligence, read more about the different types of derivatives and how they work.