For Immediate Release | 5-14-20
Media Contact | Daniel Schwiebert
Direct | 602-542-3625
REMOTELY FROM TUCSON - In anticipation of the coming summer months, Arizona Corporation Commissioner Lea Márquez Peterson urges struggling electric and gas
customers to contact their local Community Action Program (CAP) and utility companies as soon as possible to receive additional help on their electric and gas bills before the summer heat comes. An additional $16 million of emergency federal Low-Income Home Energy Assistance Program (LIHEAP) funds have been made available to households throughout Arizona in need of energy assistance in the coming summer months and approximately $1 million has been made available to tribes and tribal members for the energy assistance as well.
The following amounts were released to each jurisdiction on May 8, 2020: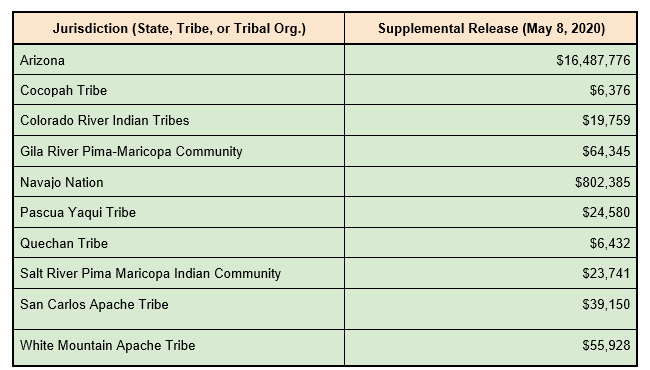 Source: U.S. Department of Health & Human Services, Administration for Children and Families: https://liheapch.acf.hhs.gov/news/may20/900.htm.
The emergency LIHEAP funds were made available as a part of the Coronavirus Aid, Relief, and Economic Security Act (CARES Act) Congress passed in March in response to the challenging economic circumstances many households are facing due to COVID-19. According to the Office of Community Services (OCS), tribes that receive LIHEAP funds as a part of a fixed agreement with the state were not included in the disbursement.
LIHEAP is a federal program that provides emergency financial relief to customers when customers need energy assistance the most, such as during the summer and winter months. The program helps qualifying low-income customers keep their homes warm in the winter and cool in the summer without having to worry about higher energy usage or costs. The benefits provided by LIHEAP can be used to pay for the current month's electric or gas bill, or a past-due bill, to help prevent unpaid bills from accumulating.
Customers that need assistance on their current or past due bills are encouraged to access Arizona's $16 million-share of the emergency funds by contacting their local Community Action Program (CAP) as soon as possible and learning more about the program requirements here.
Commissioner Márquez Peterson offered the following remarks:
"$16 million of additional LIHEAP funds will significantly help Arizona's households in-need during both the upcoming summer months and financial uncertainty surrounding COVID-19. The Arizona Corporation Commission does not regulate tribal utilities, the Salt River Project, municipalities, or water and irrigation districts, so LIHEAP can help customers in all parts of the state, not just those the Commission regulates. Customers that are struggling with bills or past-due bills should reach out immediately."
"I am pleased to see that more than over $800,000 in LIHEAP funds have been dedicated to one of the hardest-hit populations in Arizona, the Navajo Nation. The Navajo people are experiencing a rate of infection 10 times higher than anywhere else in Arizona. Helping them alleviate financial burdens is vital to our state and should be encouraged."
"I thank our U.S. senators and representatives in Congress for considering Arizona's energy customers and supporting warm-weather states in Congress' COVID-19 relief package. Arizona's summer heat can be just as threatening to life and health as the winter cold in other states, but warm-weather states have historically received less than their fair share of LIHEAP funds in the past. I look forward to seeing Congress advocate for stronger support of warm-weather states in future potential COVID-19 relief packages."
Commissioner Peterson reminds customers that if they are having trouble paying energy bills the best thing they can do is contact their utility as soon as possible. "Many of our regulated utilities have set-up special customer service lines to help customers in need find the right programs and assistance for them, including LIHEAP. If a household is struggling, the best thing they can do is to contact their local Community Action Program and utility."
To learn more about the additional LIHEAP funding, click here.
To check your LIHEAP eligibility, click here.

For Commissioner Márquez Peterson's public service announcement regarding additional resources that are available to customers during COVID-19, click here.
###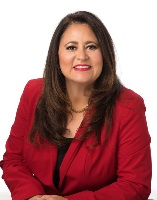 About Commissioner Lea Márquez Peterson, MBA, IOM:
Commissioner Lea Márquez Peterson was appointed to the Arizona Corporation Commission by Governor Doug Ducey in May of 2019. She is the first Latina to serve in a statewide seat in the state of Arizona.
Lea has been an entrepreneur in our community for many years and served as the President/ CEO of the Tucson Hispanic Chamber from 2009 until November of 2018. The Tucson Hispanic Chamber serves the business community in the bilingual, bi-cultural region of the Arizona-Sonora border and was recognized as the Hispanic Chamber of the Year in 2013 by the U.S. Hispanic Chamber of Commerce. The chamber represents over 1800-member businesses and in partnership with the Arizona Chamber of Commerce and Industry is one of the largest chambers in the State of Arizona.

She ran for Congress in Arizona Congressional District 2 in 2018 and won a competitive primary race though lost the general election. She previously served as the Executive Director for Greater Tucson Leadership (GTL) from 2005 to 2009 and owned and operated a Business Brokerage Firm from 2005 to 2009 and a chain of six gasoline stations / convenience stores with 50 employees from 1998 to 2005 in the Tucson region.

Lea has been appointed to serve on the Arizona Judicial Council which advises the Arizona Supreme Court and the Arizona Finance Authority, the state's bonding authority. She chairs the Board of Directors of Carondelet's St Mary's and St Joseph's Hospitals in Tucson and is the former Chair of the Pima Association of Governments' Economic Vitality Committee. She serves on the Boards of the University of Arizona Foundation and the Pima County Workforce Investment Board and is the President of the National Association of Women Business Owners in Tucson. She also serves on the national board for the United States Hispanic Chamber of Commerce.

She received her undergraduate degrees in Marketing and Entrepreneurship from the University of Arizona, and her Master of Business Administration from Pepperdine University. She is married with two children.

Twitter: @LeaPeterson
LinkedIn: https://www.linkedin.com/in/leamarquezpeterson/

The Arizona Corporation Commission was established by the state's constitution to regulate public utilities and business incorporation. The Corporation Commission is Arizona's co-equal, fourth branch of government. The five Commissioners elected to the Corporation Commission oversee executive, legislative, and judicial proceedings on behalf of Arizonans when it comes to their water, electricity, telephone, and natural gas resources as well as the regulation of securities, pipeline, and railroad safety. To learn more about the Arizona Corporation Commission and its Commissioners, visit http://azcc.gov.