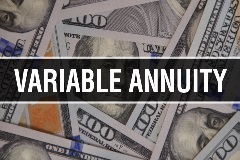 What Every Investor Should Know
A variable annuity is a contract between an investor and an insurance company where, in return for a lump sum payment or a series of premium payments, the insurance company agrees to pay to the investor a lump sum or a stream of income based upon the performance of an investment account (stocks, bonds or other types of investment products), less any applicable charges and fees. Because your investment account is subject to the ups and downs of the securities markets, the value of your variable annuity can vary.
Is a variable annuity right for you? To answer this question, you should carefully consider a variety of factors--your financial goals, investment amount, timing and holding period of the annuity. Be aware that variable annuities are not liquid investments, but are designed to be long-term investments associated with surrender penalties if you need to withdraw your money before the annuity contract has matured. Read more detail in the NAIC-Deferred_annuities_Consumer_Guide.
Also, contact your tax professional about any possible negative consequences of buying or switching to an annuity from another type of investment; or if the annuity interferes with your eligibility for medical care or housing assistance programs.
To protect yourself against deceptive sales practices, read more about variable-annuities before you invest, including these helpful tips in the Guide_to_Annuities_for_Seniors-DIFI from the Arizona Department of Insurance and Financial Institutions.